Hākari: a symbol of aroha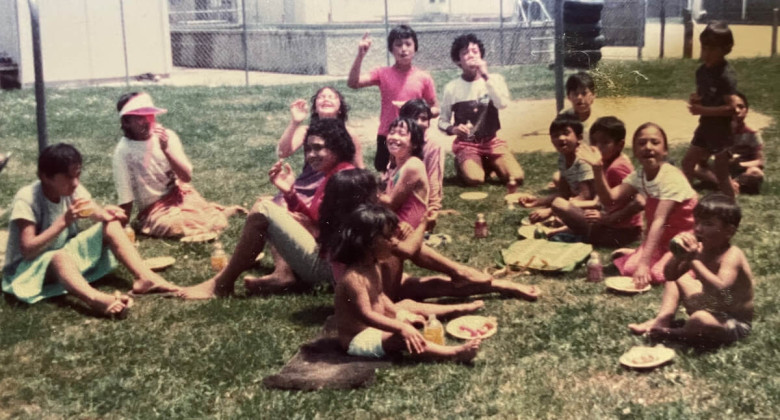 1 December 22
Reading time: 3 minutes
Posted by Erin Thompson in Te Ao Māori 2 Comments
The blooming of the pōhutukawa is always a sign that summer has arrived. We begin to feel the warmth of the sun on our skin, and the warmth of the season in our heart.
We herald the call to return to the place that nurtures the whānau. As a child, for me, this place was my nanny and pāpā's home.
This is one of my very special memories of the Christmas season – a time to gather, to play, to swim, to share gifts. It was a time to enjoy the delicious family feast that my uncles would gather and my nanny, mum and aunties would prepare, always made with love.
I've always believed that love is the magic ingredient that embellishes any meal. It's the food that has enriched our whānau through the generations.
This is one example of hākari. It is a time to bring people together, to relieve ourselves of burdens, to celebrate special occasions. It is also a time for everyone to partake in the practice of giving, which in turn supports the wellbeing of the people.
The traditions of hākari are very much practised today. Although our nanny and pāpā are no longer with us, we continue to gather as whānau every year. The elders prepare the hākari, while the grandchildren take time to relax.
All of my whānau partake in the practice of giving, each bringing our special dish to the table. We maintain the sentiment of aroha that our elders instilled in us.
I think about the times of my nannies and pāpās. They worked together to make sure that all of their mokopuna in the pā were cared for. They were frugal and saved, they grew and gathered kai, and they shared the mahi so that we were all looked after.
Right up until the day of the hākari, we never felt the stress of this special time. Instead we had the joy of appreciating the delicious kai.
Hākari is a symbol of aroha!
Erin Thompson (above, smiling at centre) is Sorted's Kaihautū, upskilling and keeping us well-grounded in the cultural perspective of te ao Māori, the Māori world.