Real estate agent Xavier Tofilau's voyage to success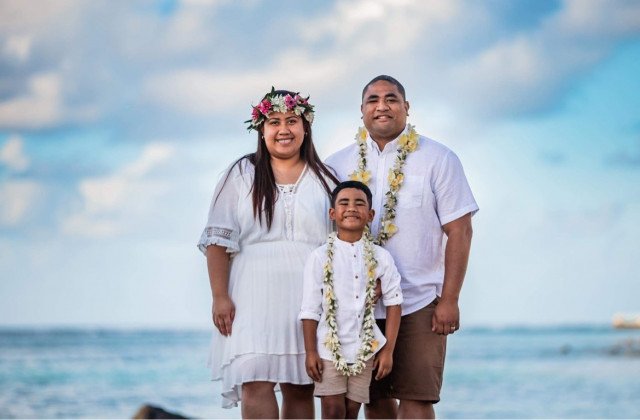 31 May 22
Reading time: 7 minutes
Posted by Tom Hartmann in Pasifika 1 Comments
Mālō le soifua! Vaiaso o le Gagana Samoa, Samoan Language Week has arrived. I caught up with Xavier Tofilau, one of the top real estate salespeople in Auckland, for a talanoa (inclusive dialogue). He was so generous with his time, which is probably one reason he's been so successful. That's his beautiful family above (his wife is his business partner), and there's more on their story below.
The theme for this year's Vaiaso o le Gagana Samoa  is: Fa'aāuāu le Folauga i le Va'a o Tautai. Which means, 'Continue the voyage with competent wayfinders of the ocean'.
For this year, the 60th anniversary of Samoan independence, the community chose a theme that reflects the journey of revitalising and maintaining the language. The theme recognises the importance of having the right tools, good leadership skills, relationships and the right vessel (va'a) for faring the ocean and its elements.
Xavier's voyage from rejection to a multimillion-dollar career
One of the most important things about Xavier Tofilau is he's an incredibly successful real estate agent, but he's only been doing this job for just over four years – which makes his story all the more remarkable. He has been top salesperson in Auckland for Mangere East, Favona and Otara, according to homes.co.nz, and is in the top 1% of agents internationally as well.
But it wasn't always like this. "All I knew was renting," he remembers, growing up in a Housing New Zealand house in West Auckland. "Going to school, I would start to see people talk about their homes and how they're owned. So I associated being a home owner with being successful."
He dropped out of school when he was 15 to help his mum pay the bills, working in a variety of roles, including door-knocking for Unicef and the World Wildlife Fund to raise funds – and learned to overcome rejection. This put him in good stead for his retail and call centre work that followed.
"Why not give it a try?"
When he was 20, he met Philip Hall, owner of Ray White Ellerslie, who told Xavier that he would make a great real estate agent. "Why not give it a try?" he told him. But looking at a roomful of middle-aged professionals was understandably alienating at the time.
His fascination with real estate would continue, but as the years went by and he got married, he always shunned the idea of putting his family at risk with a commissions-based job – he preferred a safe, steady salary.
The opportunity came when he came down with rheumatic fever and couldn't work at all. His wife encouraged him to make a move. They were staying with their in-laws and she was in steady work. "It was the perfect time for me to do real estate," he remembers.
These days his wife is his business partner, and they've been married for 10 years. "My wife is the boss, but we do everything together," he says, pointing to good communication as vital to their success in life.
Crossing the threshold to home ownership with conversations
When it comes to barriers to home ownership for Pacific families, Xavier points to the risks involved. "Our people are humble by nature and closed off from taking risks," he explains. "We don't take risks unless we are comfortable."
Home ownership can be taboo to even talk about. "It's something for us that we tend to avoid because it's been out of our reach. It's not something that would be at the dinner table," he says, "unless you win Lotto or something."
Talking about it can help to normalise home ownership in the community. "We always talk about sports, food and our faith, so if anything it's really about normalising the conversations about home ownership. Now it's becoming more acceptable to talk about." 
Free home-buying seminars for all the community aim to help, and there will be one 22 June at Fale Samoa in Auckland at 6–8pm, to which all are invited.
There is also the Sorted Pacific Peoples Pathways to Homeownership programme, which is supporting 1200 Pacific households over three years to achieve homeownership. Here's more on the programme and where to apply.
Xavier the wayfinder, shifting the status quo on housing
"We need to keep pushing those boundaries and keep changing the status quo," Xavier says. "It's a huge thing. It will show our people, the more people own houses, it will empower our people to think outside the box, and change that renting is the norm."
More and more he's seeing people say, "I want to own this house, I want to be an owner."
As always, knowledge is power, even if a deposit seems daunting. "You don't need to have a $100,000 deposit. There are a lot of avenues these days that accommodate various thresholds: Kāinga Ora, First Home Grant, as well as private developers offering houses off the plans for new builds with a low deposit."
But the difficulty is not necessarily the money. In the Samoan community, for example, in the event of a death in the family, there is no difficulty at all with coming up with large sums quickly to help. "We'll come up with it right away. But a deposit, for some reason, feels more complicated."
Money lessons learned for the next generation
"The one thing I've learned with money is that it's important to find multiple streams of income," he says. "For myself, I'm still learning about investing.
"As a real estate agent, you're more exposed to the market, and I've seen how developers use equity, buy properties, add value. Just being exposed to that has made my knowledge that much better." 
What is he passing on to Xavier Jr, 6, and others in the Samoan community? He emphasises creating intergenerational wealth that you can pass on.
"As islanders," he says, "we believe in looking after our parents, our siblings, being there for everyone in need. We need to make sure we're okay first, before extending ourselves.
"But it's very hard. In our culture, we just give."
Things have shifted slightly. "For this generation, it's more about giving what you can. Before it was 'give this amount.'" Going over the finances with a fine-toothed comb helps.
The new chapter in Xavier's voyage
These days you'll find Xavier opening a new chapter with Harcourts as a new business owner. "It's about empowering our islander agents to be business owners in the future," he says.
The journey he takes with first-home buyers, who are often the first in their families to ever own a home, is fulfilling, as he walks with them from preparing their deposit to the blessing of their new home.  
"I love buyers getting into their own place," he explains. "And I love sellers, getting them as much money as I can in this market, giving them recommendations and educating them week by week.
 "It's what I love about my job."
Manuia le aso – have a great day, and enjoy Vaiaso o le Gagana Samoa! For more on buying your first home, you'll find our first-home guide here.