Shopping Christmas sales online? Read this first.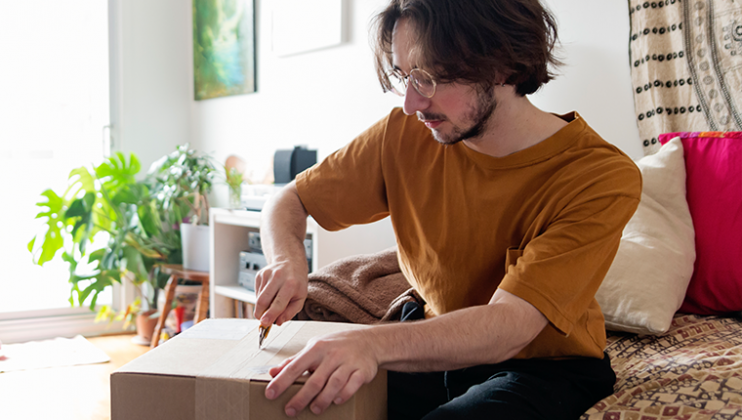 25 November 20
Reading time: 6 minutes
Posted by Tom Hartmann in Scam alert 0 Comments
We all need to be careful about who we're buying from and the information we're giving out. The last thing anyone wants is a dud deal, products that never show up, or credit card details in the wrong hands. Thanks to these tips from Netsafe, and with a bit of know-how and planning, you can be smarter and safer when shopping online.
Get the basics right: WiFi and passwords
Only use trusted WiFi connections, especially when creating or logging into online accounts, and when making payments. Be careful using public WiFi and WiFi connections that aren't secure – someone could be able to spy on what you're doing. The best option is to you use your personal WiFi, or mobile data.
When you're setting up online accounts, make sure you choose a strong password, and use a different one for every account. You should also use two-factor authentication on every account you can – think of it as an extra layer of security to keep your important info safe.
Spend wisely: padlocks, credit cards, PayPal
Look for the padlock: Look for a padlock symbol in the browser window when you browse, log in, register and check out. Only enter your credit/debit card details on a webpage that begins with 'https://'. The 's' stands for secure and means your payment information is encrypted. This means that if someone was able to access the information you've entered, they wouldn't be able to make any sense of it. Remember that the 'https://' means your information is encrypted, it doesn't mean that the person or organisation running the website is legitimate.
How to pay: Buy online using a credit card or a well-respected payment service such as PayPal. Buying with a credit card gives you better protection than a debit card. if something goes wrong, you'll be able to try to get a chargeback through your bank. A chargeback is where the money paid to the retailer is reversed out of their account and put back into yours.
Use a disposable credit card: You can also shop online using a disposable credit card, such as a Prezzy card. If the disposable credit card details fall into the wrong hands, they'll only be able to spend what you've pre-loaded on the card.

Saving payment details: Some websites ask if you'd like to save your payment details for next time. If the website isn't using a third-party payment system, think carefully about how they might use that information, and how well they'd be able to protect it if someone tried to steal it. The safest option is to only save payment details if the website uses a trusted third-party payment system like PayPal, Apple Pay or Google Wallet.
Check your credit card statements: Always check your credit card statements to make sure there's no fraudulent charges being made. If you spot something, contact your bank immediately.
When you're trying somewhere new
What do others think? If you haven't bought from a website before, do a quick online search of the name of the website with the word "scam" or "review" after it e.g. search for "Bill's Unbelievable Bike Store scam review". If they've ripped off others, there's a good chance you'll see warnings from disgruntled customers.
Make sure it all lines up: Check that the URL of the website matches what they're selling. If Gary's Great Garage Doors is selling killer-priced Nike shoes, something might be amiss. Why would this happen? Some cyber criminals will claim a domain (website address) from a legitimate company that has accidentally let their ownership lapse, or from a legitimate company that has closed down. They want to take advantage of all of the web traffic going to the website, and the SEO benefits it may have such as showing higher in search engine results.
Who's running the show? You can find out who owns the domain, their contact information and how long the website has been operating. If the website was recently set-up or is hidden behind a private domain registration, be cautious about placing an order. Find domain information using whois.domaintools.com or dnc.org.nz.
What if something goes wrong?
Follow up on your order: Most genuine sellers will be quick to reply to emails, but a lack of response could indicate there's trouble.
Talk to your bank: If you paid by credit card, you can apply to your bank for a chargeback. Most banks have a 60-day limit from the time of purchase for you to lodge a chargeback request. If you paid via a third party system such as PayPal, go through their dispute resolution process before attempting to go through the chargeback process with your bank.
Apply to the Disputes Tribunal: If you've ordered through a New Zealand based seller you can make an application to the Disputes Tribunal. To make an application you need to have the seller's physical address, which can sometimes be a problem. There is also a fee for applying.
Think about the information you've supplied: If you think you've dealt with a scam website, and you're worried about the personal information you've provided, you can contact an organisation such as ID Care for help and advice.
Report to Netsafe: The information you provide us helps us keep track of dodgy dealers and work with Consumers Affairs to educate others about online scams and fraud. You can report a scam to netsafe.org.nz/report.
Make sure to report scams
Help if you have been scammed or think you are about to be scammed: Netsafe can't open investigations or track scammers, but we can offer support and advice for people who have lost money in a scam, or think they are about to.
This includes letting you know the steps you can take depending on the scam you're in and giving you advice about how to stay safe in future. You can report a scam to netsafe.org.nz/report.
Netsafe's help service is open from 8am – 8pm Monday to Friday and 9am – 5pm on weekends.
More important information to stay safe
Brought to you by Netsafe, New Zealand's independent, non-profit online safety organisation.