So they've arrived – those balanced KiwiSaver default funds that were announced back in May. Many of us will get a lot out of these new funds. We'll pay less, see better service and get better returns in a fund that is ethically invested.
Those in the old default funds – who didn't make a choice for themselves – are being moved to a new one. Their new default fund will be either with the same provider (if reappointed), or with an entirely new company.
As the new funds roll out, this is a great opportunity for everyone to check in and choose your fund – that way you can make extra sure it works best for you. And if you find yourself in a default fund, you may decide to stay – but at least it's your choice.
KiwiSaver default funds are now 'balanced'
One of the big changes to these default funds – which thousands of new KiwiSaver members will join automatically each month (unless they choose another) – is that they are 'balanced' instead of 'conservative'. This means they hold more of the riskier investments like shares and commercial property.
Over the long run, members should get better results from the new settings and grow their money more with a balanced fund than they would in a conservative one. Sounds good, right? If you're shopping around for a balanced fund, these new default funds are an option.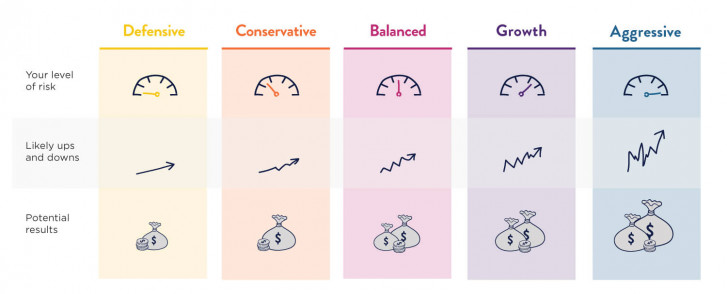 But many of us who have more than ten years to go before we'll be using our KiwiSaver money will want to take advantage of the potential returns from a growth or even aggressive fund.
You can see how much difference this could make for you with our KiwiSaver calculator.
More good things about KiwiSaver default funds
The six newly appointed default providers – BNZ, Booster, Kiwi Wealth, Simplicity, Superlife (from NZX's Smartshares) and Westpac – have created entirely new funds that:
Exclude fossil fuels and illegal weapons, and include a responsible investment policy
Cost significantly lessthan most KiwiSaver funds, with no flat fees for low balances
Have a 'balanced' investment mixinstead of the current conservative setting – which means the upper limit of shares and property they hold will rise from 25% to as much as 63%.
Offer a high level of serviceand communications.
Have a look at the new KiwiSaver default funds
Here are the newly created default funds and links to all the information about them available so far:
So there are two entirely new providers who now offer default funds: Simplicity and Superlife, and theirs are the cheapest. (At the time of writing, information about Booster and Westpac was not available.)
How much less will KiwiSaver default members pay in fees?
The average fee for KiwiSaver balanced funds sits at 1.27% (it's easy to see on Smart Investor how high these can get), but the fees for the new default funds will be heaps lower:
| | |
| --- | --- |
| KiwiSaver provider | Single fee percentage |
| BNZ | 0.35% |
| Booster | 0.35% |
| Kiwi Wealth | 0.37% |
| Simplicity | 0.31% |
| Smartshares | 0.20% |
| Westpac | 0.40% |

To give an idea, by investing in a default fund, we estimate a member earning $50,000 per year would pay $2,400 less in fees over their entire KiwiSaver experience (ages 18–65) than they would in an average balanced fund.
No default provider will charge a fixed annual or monthly fee for these funds, either. That's a good thing, since these fixed fees tend to affect members with low balances more, while percentage-based fees affect those with higher balances. Fees are some of the surprising KiwiSaver figures worth keeping an eye on.
It's time to pick your KiwiSaver fund
But how do you know if a balanced fund is right for you? What type would suit you best?
Glad you asked – our guide on how to pick your KiwiSaver fund should help. Instead of just looking at a fund or two that your provider offers, ideally you should be selecting from all the funds of your type available out there.
Although the KiwiSaver system has default settings to get people started, it's good to make your own choices to make sure you get the most out of it.