This week, level up your defences in the online world and stay safe. Cyber up, everyone! It's so crucial when it comes to protecting our money.
You know that uneasy feeling in the back of your mind as you're about to buy something on a site for the first time? It's that niggling doubt about whether it's legit. What if it isn't?
That. Would. Not. Be. Good.
Looking up a website using a Whois service
One way to double-check before keying-in your card details is to look up the website itself. You want to make sure it wasn't just made yesterday, last week or last month. One way is to use a 'Whois' site. There's quite a few out there and this is a good one: whois.com/whois.

If you key-in the Sorted website, for instance, you can easily see how long we've been New Zealand's independent, impartial source for personal finance information.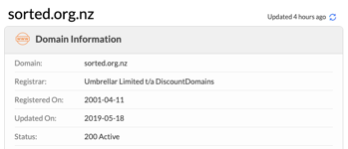 Sorted has been registered since April 2001, and this year we've been celebrating our 20th anniversary.
So this is actually a quick, easy way to double-check suspicious websites. Many look like the real thing, but these days even fully functional fakes can be bought on the dark web and set up quickly by fraudsters. It doesn't hurt to check.
The scammy ones have usually been set up recently, so by checking the registered date you can avoid many of the wolves digitally dressed in sheep's clothing. Skip any sites that haven't been around long.
Make sure the website is secure
There are a couple of ways to check out if a website is secure.
Make sure https rather than http is at the start of the web address (URL) in your browser.
Also look for the padlock symbol next to the URL.
These signify that the connection is secure, and any information sent between your browser and the web server is encrypted and can't be copied.
It's important to not buy anything or submit any personal information (like payment details, email, password or even your name) on a website that isn't secure.
Where to report your cyber issues
When you come across something suspicious in the cyber world, be sure to report it to CERT NZ. They're the government agency that helps us identify cyber security issues and get through when things go pear-shaped.
Keep safe online with these steps
CERT recommends 4 steps to level up your online defences:
There's more at cert.govt.nz/cybersmart.